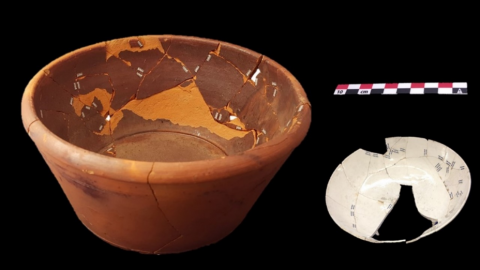 Use your extra time at home this spring to become an armchair archaeologist or couch curator with a visit to the Fairfax County Park Authority's artiFACTS website. It's a great way to put a local spin on history lessons with your kids or beef up your own knowledge of Fairfax County history.
In addition to preserving green space, the Park Authority preserves our cultural history through an extensive collection of historic objects and archeological finds. Each month, a new item is added to the artiFACTS website that includes photos and a background story on how the item came to be in Fairfax County.
In March, artiFACTS featured a reassembled bowl and explored how broken pottery and glass from archaeological sites are pieced back together using a database and special glue.
Other items that have been featured include a top hat that may have made an appearance at President Abraham Lincoln's inauguration, a church pew that provides insight into the area's racial history and a newspaper clipping that sheds light on the women's suffragist movement.
You will find old-fashioned cookie cutters, a musical instrument, a looking glass that went missing for nearly 200 years, hand-wrought nails and straight pins, decades-old publications and photographs, and mystery objects that have yet to reveal their secrets.
In all, the Park Authority's collections include more than 5,000 historic objects, such as quilts, chairs, baskets, machines, and clothing; thousands of archival items, such as photographs, letters, maps, and other documents; and upwards of 3 million artifacts that include archaeological finds, such as spear points and pottery.
artiFACTS showcases a small sampling of these treasures to educate, enlighten and entertain.
So, add to the sense of the history around you with a visit to the artiFACTS website.