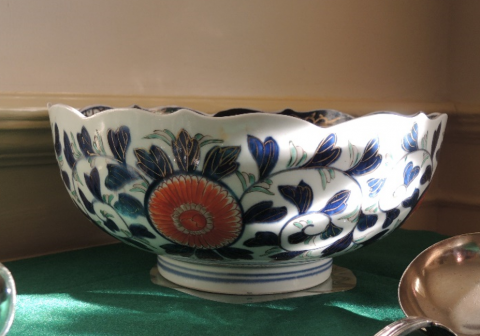 Long before Fiestaware and Tupperware, people entertained guests by using beautiful Japanese Imari ware.
This month, the Fairfax County Park Authority's artiFACTS website features a punch bowl made of the Japanese porcelain. Learn the history of this form of ceramics and where you can see an example on display at a local historic site. You will also discover why some people think the Imari name is all wrong.
If you can't get to a real museum these days, check out the Park Authority's virtual museum and learn more about Fairfax County's history at the artiFACTS website.
The Park Authority's collections include more than 5,000 historic objects, such as quilts, chairs, baskets, machines and clothing; thousands of archival items, such as photographs, letters, maps and other documents; and upwards of 3 million artifacts that include archaeological finds, such as spear points and pottery. All come with their own stories to tell.
artiFACTS allows us to showcase a small sampling of these treasures to educate, enlighten and entertain.
For more information about the Park Authority's Museum Collections, contact Heritage Resource Specialist Megan Leining at 703-631-1429 or at megan.leining@fairfaxcounty.gov.