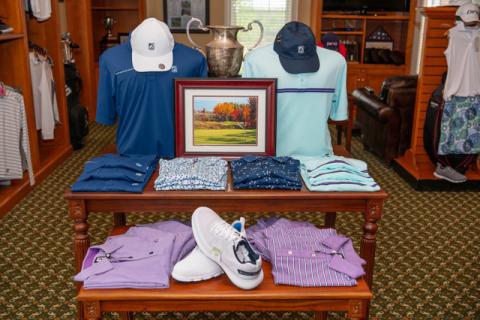 Laurel Hill Golf Club's newly launched virtual store brings its fully stocked pro shop straight to you! Customers can view items online or set up a virtual in-store shopping experience with a personal shopper. The pro shop features everything a golfer needs to play a round of golf, from sunglasses to apparel to golf balls.
Browse the online selection of performance technology polo shirts and golf shoes from trusted brands – Adidas, FootJoy, Cutter & Buck and Ahead. The Laurel Hill logo is included on all shirts. Now through Father's Day, take 25% off all in-stock polos.
To place an order simply call the pro shop at 703-493-8849 and pay by credit card. To pick up your order, pull up to the clubhouse, call when you arrive, pop the trunk and an associate will place your order in the vehicle.
For items beyond what is listed, including options for women, schedule a virtual personal shopping appointment, Monday through Friday, 8 a.m. until 3 p.m. by phone at 703-493-8849 or email ryan.carmen@fairfaxcounty.gov. Guided by a staff member, you can shop the in-store selection from the comfort of your home.
"The virtual personal shopping experience at Laurel Hill is a convenient and what we consider to be a game changer! We are excited to help you peruse our fully stocked pro shop with the click of a few buttons," noted Ryan Carmen, general manager, Laurel Hill Golf Club.
View the Laurel Hill Golf Club Virtual Pro Shop.
Laurel Hill Golf Club is located at 8701 Laurel Hill Crest Drive, Lorton, Virginia, and is operated by the Fairfax County Park Authority.