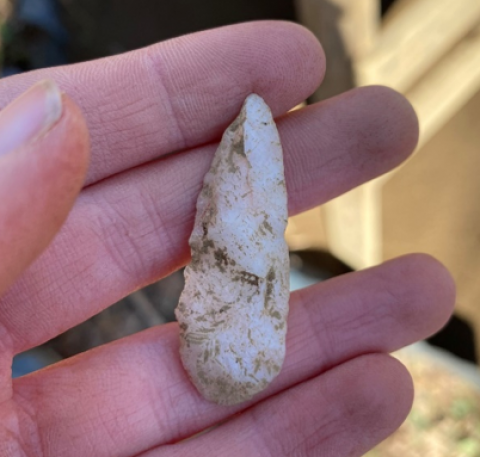 The Mount Air Historic Site is best known for an 18th-century mansion that once graced the property. A recent archaeological discovery at the site points to a much older past.
In this month's edition of artiFACTS, learn about the historic mansion and see some of the projectile points that have been excavated from the site. These archaeological finds are providing insight into the lives of Native Americans who occupied the land long before the mansion was built.
Just click on the Park Authority's artiFACTS website to discover the layers of history at Mount Air.
Each month, artiFACTS highlights an item from the Park Authority's vast collection of historic treasures. The collection includes more than 5,000 objects, such as quilts, chairs, baskets, machines, and clothing; thousands of archival items, such as photographs, letters, maps, and other documents; and upward of 3 million artifacts that include archaeological finds, such as spear points and pottery. From glass fragments to clothing to furniture, the items tell the story of our region's past.
For more information about the Park Authority's Museum Collections, contact Heritage Resource Specialist Megan Leining at 703-631-1429 or at megan.leining@fairfaxcounty.gov.