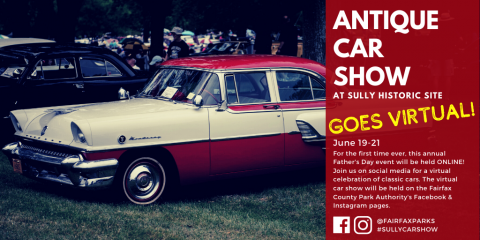 Crank up your computer. The annual Antique Car Show at Sully Historic Site will be an online gathering.
The Fairfax County Park Authority and George Washington Chapter, Inc. Model A Ford Club of America have teamed up to bring you a weekend full of classic and antique cars online. Friday through Sunday, June 19 - 21, 2020, car club members will present photos of some of their proudest possessions and the stories behind them.
Although the car show cannot be held in person this year because of coronavirus restrictions, you can still treat your dad to a free Father's Day weekend full of classic car posts on the Park Authority's Instagram and Facebook pages. On Instagram, use #SullyCarShow.
This special weekend-long event is co-sponsored by the Fairfax County Park Authority and The Model A Ford Club of America. Sully Historic Site is at 3650 Historic Sully Way, Chantilly, Virginia. For more information, call 703-437-1794 or visit Sully Historic Site.