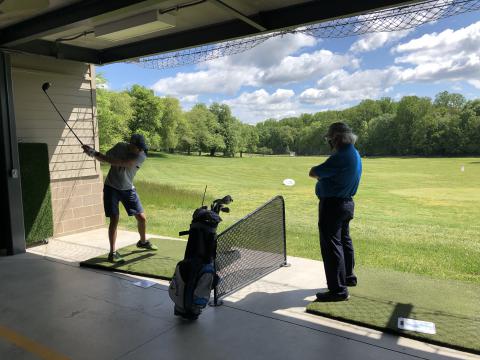 The Fairfax County Golf Academies are thrilled to announce the return of private lessons and small group classes at five Fairfax County Park Authority facilities.
With the safety of all students and staff as a priority, new safety guidelines and class modifications have been implemented based on recommendations put forth by the Centers for Disease Control and Prevention (CDC), The Professional Golf Association of America, state government mandates and golf associations.
Modifications include online registration and payment, smaller class sizes, no physical contact, increased spacing between students and instructors and enhanced cleaning of all equipment and practice areas before and after each instructional session. All Golf Fairfax Park and Play Safety Guidelines should also be practiced.
Playing golf is a great way to stay mentally sharp, physically fit and connected with the outdoors. Golf is an excellent family sport that can be played for a lifetime.
Burke Lake Golf and Pinecrest Golf Academies offer a variety of options that appeal to all levels of play from beginner to advanced. Get Golf Ready I and Get Golf Ready Parent/Child are perfect for new and learning adults and families who want to get into the game.
Get Golf Ready II and Golf Trouble Shots are ideal for golfers looking to sharpen their skills and shave a few strokes off their game. Ladies classes are available for ages 13 and up. Registration for summer classes is now open, online only, at the Park Authority's golf website.
Private and semi-private lessons and packages are available at Burke Lake and Pinecrest Academies, as well as at Oak Marr Golf Center taught by Everybody Golf School and at Laurel Hill and Twin Lakes by Eisman Golf Academy.
Burke Lake Golf Center is located at 6915 Ox Road, Fairfax Station, Virginia. Pinecrest Golf Course is located at 6600 Little River Turnpike, Alexandria, Virginia. Oak Marr Golf Complex is located at 3136 Jermantown Road, Oakton, Virginia. Twin Lakes Golf Course is located at 6201 Union Mill Road, Clifton, Virginia. Laurel Hill Golf Club is located at 8701 Laurel Crest Drive, Lorton, Virginia. For more information or to register for instruction visit the Park Authority's golf website.