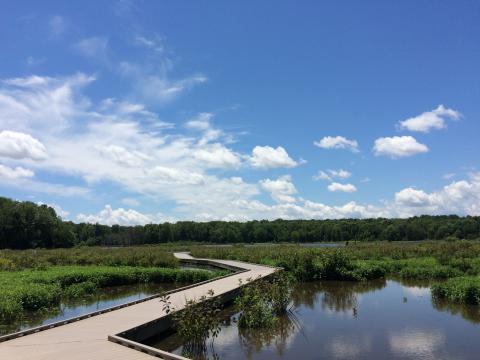 Welcome to, or back to, Huntley Meadows Park! As the Fairfax County Park Authority continues to reopen, please come and enjoy our trails. While you are visiting, please be mindful of other visitors and wildlife. With your cooperation, visitors will be able to experience the immersive boardwalk and see natural events up close. The park is a peaceful, calm place where many people find respite from their daily lives.
As you walk Huntley's trails, please be aware of your surroundings. Use quiet voices when speaking. Wildlife is easily spooked by loud or sudden noises. Staying on trails protects the delicate ecosystem of the park. Please keep dogs leashed and off the boardwalk. We ask you to walk while on the boardwalk. This ensures wildlife will be comfortable enough to stay and possibly breed in the wetland.
Please restrict bicycles and scooters to the trail at the S. Kings Highway (6901 S. Kings Highway, Alexandria, Virginia) entrance. The trails on the Lockheed Boulevard entrance are better experienced at a slower pace. Please leave bicycles and scooters in the parking lot at the Lockheed Boulevard entrance. Trash cans are in front of the Norma Hoffman Visitor Center and in the parking lot. Please do your part to keep Huntley beautiful!
Visitors are reminded that our Visitor Center and restrooms remain closed at this time.
Huntley Meadows Park is located at 3701 Lockheed Blvd., Alexandria, Virginia. For more information, call 703-768-2525 or visit Huntley Meadows Park.