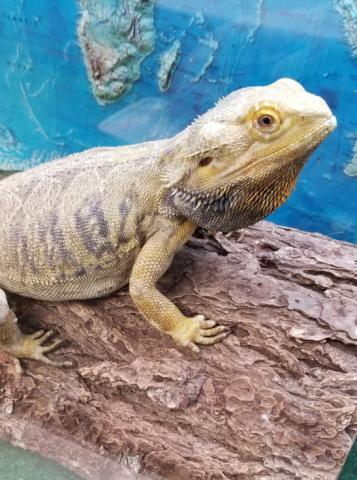 This week, the Park Authority's Virtual Exploration Center is putting the animals of Hidden Oaks Nature Center in the spotlight through a series of videos.
What would a bearded dragon do if given the chance to roam? Tune into "Spike's Day Out" and explore the nature center with Spike as he stops to visit with fellow residents, such as Chompy the snapping turtle and Shelly the corn snake. See what Spike does when he runs across some pre-historic ancestors.
Click on the "Turtles" video to learn about these hard-shelled critters with the help of Hidden Oaks naturalist Celia Lobo. Discover how long turtles live, what they like to eat, and what's inside their shells. You'll also learn how easy it is to figure out whether a turtle is a boy or a girl.
At the Virtual Exploration Center, you can also meet "Jackie," a long, black rat snake. Jackie wraps herself around the arm of Hidden Oaks naturalist Suzanne Holland to give viewers a close-up view. Learn how big these snakes can get, how you can give them an energy boost, and what it means when they stick out their tongue at you.
Hidden Oaks is home to 23 live animals, ranging from the shy millipede to the venomous copperhead snake. Though the nature center is closed due to COVID-19 restrictions, there are still trails, a pond, creeks and gardens to explore outdoors at Hidden Oaks, located at 7701 Royce St. in Annandale, Virginia.
At home, remember to check back regularly for updates to the Virtual Exploration Center to stay physically and mentally fit while access to park facilities is limited due to the COVID-19 pandemic.
For more information, contact the Public Information Office at 703-324-8662, or send an email to parkmail@fairfaxcounty.gov.