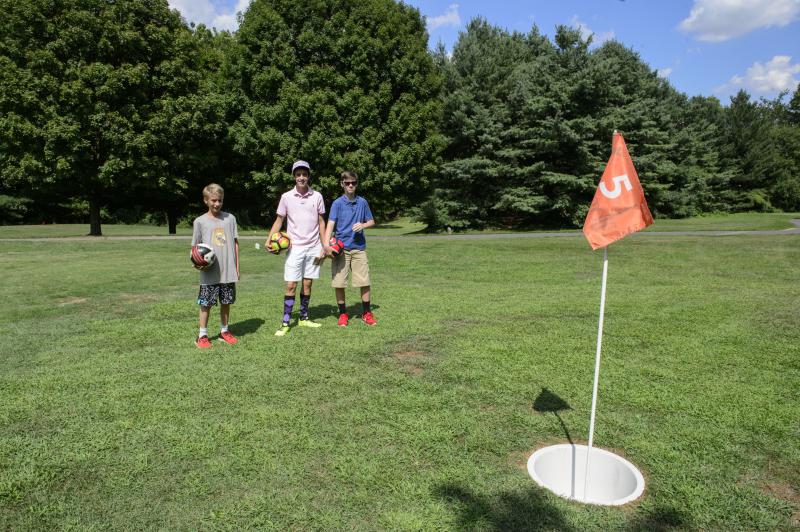 Pinecrest Golf Course announces the return of FootGolf  -- this weekend -- on July 4, 2020. FootGolf will be available on Saturdays and Sundays after 3 p.m. With the safety of all players and staff as the priority, new safety guidelines have been implemented based on recommendations put forth by the Centers for Disease Control and Prevention and The American FootGolf League.  
FootGolf combines two popular sports into one! It is played on a golf course using a soccer ball, with the object being to kick the ball in the oversized cup in as few strokes as possible. If you can kick a ball, you can play, which makes it a great activity for all ages and abilities. Add FootGolf to your list of family-friendly ways to get outdoors, stay active and have a ball while social distancing and staying safe. 
"We're thrilled to welcome back our loyal FootGolfers. We know they were eager to return, and we are happy to get them safely back on the course," stated Todd Johnson, Golf Enterprises Manager. 
There is still time to make reservations. FootGolf tee times can be made seven days in advance online or by calling the clubhouse at 703-941-1061.  
Please note, to ensure your reservation all times must be made at least four hours in advance, walk-ins are not accepted at this time. We are currently not renting soccer balls, please bring your own balls (one per player). 
Pinecrest Golf Course is the only FootGolf facility in Fairfax County and an American FootGolf League certified course. Pinecrest is located at 6600 Little River Turnpike, Alexandria, VA.  For more information or to view tee times, visit FootGolf at Pinecrest.