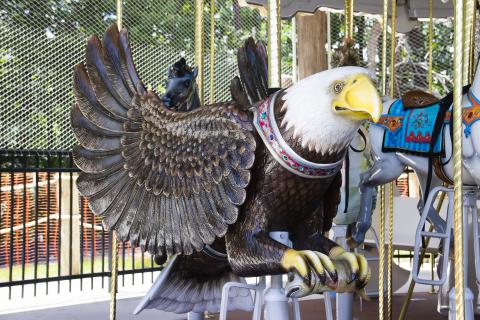 Carousels are once again spinning at parks in Fairfax County, and the Burke Lake Park train is choo-chooing along the rails. Take the kids for a ride on your next park outing!
The Park Authority has colorful carousels at six parks and a miniature locomotive that runs for 1.75 miles through Burke Lake Park. You can now purchase tickets in advance for all of these amusements by clicking on the links below:
You can buy an unlimited number of tickets for your favorite activities for the same day or different days. Drop-in tickets will still be available on site if activities do not sell out online. Visitors are encouraged to take advantage of the new online reservation system to help reduce the spread of COVID-19 in the county by limiting physical contact via transactions and making it easy to practice social distancing.
As amusements continue to reopen in the parks, check the Popular Activities website to purchase tickets for a host of attractions throughout the county.
For more information, contact the Public Information Office at 703-324-8662 or send an email to parkmail@fairfaxcounty.gov.