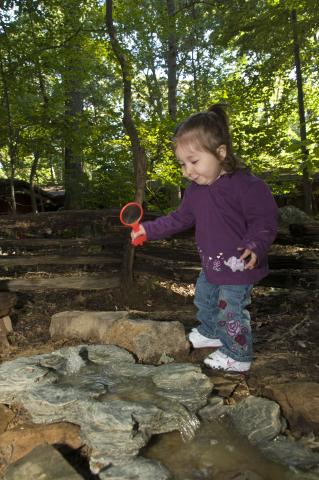 Families can choose to meet a special live nature center critter, explore the stream, dip for tadpoles or meet a caterpillar along with a personalized naturalist-led woodland walk along the Old Oak Trail at Hidden Oaks Nature Center. The Fairfax County Park Authority is working hard to create safe, family-friendly experiences during the pandemic.
Families can register their group of up to nine participants, including an adult for each experience. Registration is required three days before the date to tailor each family's experience based on their interests. A naturalist will plan the outing based on your preferences. Additional dates may be scheduled, so if your date/time is already selected, be sure to add your group to the waitlist and you will be contacted by staff.
Sessions run 45 minutes throughout the week starting July 10, 2020. The cost is $45 per group. Participants will be asked to maintain 6-foot social distancing and have children over age 2 wear a mask. Restrooms will be available only if the nature center is open to the public. Programs will be canceled in case of heavy rain. Register for Nature Your Way at Hidden Oaks at Parktakes Online.   
Hidden Oaks Nature Center is located at 7701 Royce St., Annandale. Virginia. For more information, call location phone 703-941-1065 or visit Hidden Oaks Nature Center.