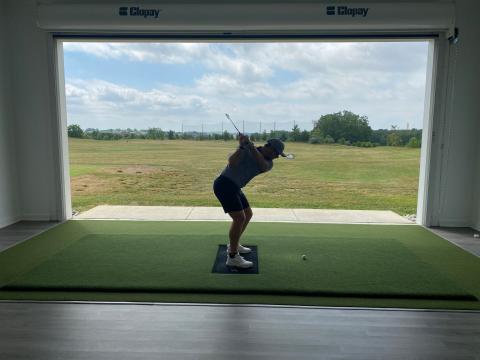 The Eisman Golf Academy (EGA) has opened the Eisman Performance Center at Laurel Hill Golf Club. This indoor-outdoor teaching facility allows for year-round instruction and features state-of the-art Swing Catalyst and Trackman technology.
To ensure the safety of all students and staff, EGA implemented social distancing and sanitation practices set forth by the National Golf Course Owners Association (NGCOA) and the Centers for Disease Control and Prevention (CDC).
You can learn more about your swing with Trackman technology, Artificial Intelligence and Virtual Range sessions that provide an on-course feel and experience. These features analyze key swing mechanics and can be applied to all levels, from beginner to advanced golfer.
The hitting surface is wired with a 3D motion plate that measures detailed foot pressure data synchronized with four high-speed capture cameras that play video images directly back for the golfer and instructor to view on three, 60-inch, high-definition television screens.
Data collected includes foot pressure distribution, center of pressure, vertical forces, horizontal forces, ground reaction forces, rotational force (torque).
Director of Instruction Jon Eisman, recently named one of Virginia's best teachers by Golf Digest Magazine, explained, "By blending highly educated instructors and state-of-the art technology, students will experience a golf lesson today that will have them playing their best golf tomorrow." In addition to swing analysis, The Eisman Golf Academy offers private lessons, nine-hole on-course lessons and junior lessons at Laurel Hill and Twin Lakes golf courses.
Laurel Hill Golf Club is located at 8701 Laurel Hill Crest Drive in Lorton Virginia, and is operated by the Fairfax County Park Authority. For more information or to view tee times, visit Laurel Hill Golf Club.
Twin Lakes Golf Course is located at 6201 Union Mill Road in Clifton, Virginia.