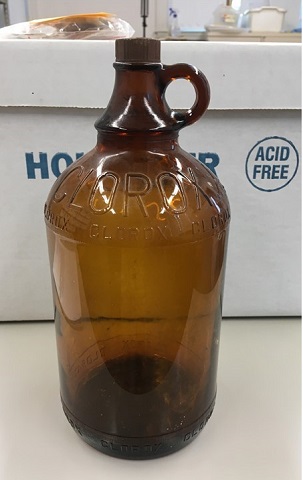 While shoppers scrambled to find cleaning products to protect against COVID-19, Fairfax County archaeologists were harboring a gallon bottle of a much sought-after bleach. Only problem, the bottle was 60 years old – and empty!
This month, the Fairfax County Park Authority's artiFACTS website features a vintage bottle of Clorox. Discover how bottles such as this can help archaeologists date historic sites. Become a bottle detective and learn how to read the clues on old bottles to reveal their history.
If you can't get to a real museum these days, enjoy the Park Authority's virtual museum by spending a little time on the artiFACTS website.
The Park Authority's collections include more than 5,000 historic objects, such as quilts, chairs, baskets, machines and clothing; thousands of archival items, such as photographs, letters, maps and other documents; and upwards of 3 million artifacts that include archaeological finds, such as spear points and pottery. All come with their own stories to tell. artiFACTS allows us to showcase a small sampling of these treasures to educate, enlighten and entertain.
For more information about the Park Authority's Museum Collections, contact Heritage Resource Specialist Megan Leining at 703-631-1429 or at megan.leining@fairfaxcounty.gov.