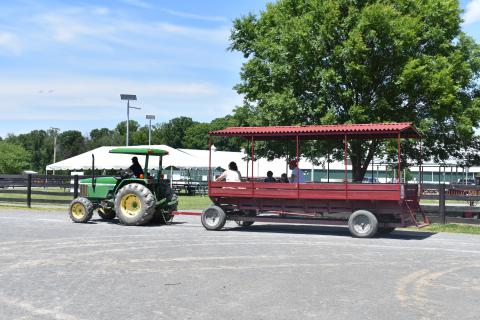 Round up the kids and head to Frying Pan Farm Park for a safe and private single-family wagon ride tour of the park.
Hop on board for a ride through the farm, into the woods and past the crop fields for up to nine family members. Enjoy the scenery as you learn fun and interesting facts about farm life from one of the staff at Frying Pan. These 30-minute private tours are available Monday through Friday mornings throughout the month of August. The cost is $40 per family. Advance reservations are required.
To reserve your spot, go to the Popular Activities website and click on Wagon Rides. Embark from the park's Country Store at your reserved time.
Frying Pan Farm Park is located at 2709 West Ox Road, Herndon, Virginia. For more information, call 703-437-9101, or visit Frying Pan Farm Park.