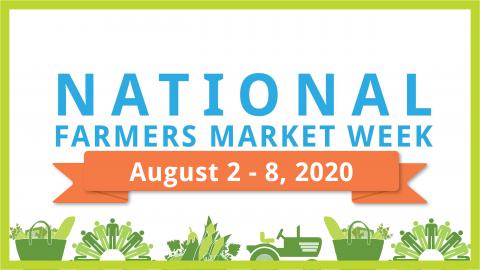 Celebrate National Farmers Market Week the first week in August with a visit to one of the county's producer-only farmers markets. Nothing beats farm-fresh produce in the summertime and bakery products made from scratch. It's time to give your taste buds a treat and support the local farm community.
The Fairfax County Park Authority hosts 10 markets throughout the growing season Wednesdays through Sundays with staggered hours to fit everyone's schedule. Fresh and local are what these markets are all about. In fact, the farmers and producers you will meet may sell only what they raise on their farms or make from scratch. Vendors are encouraged to use local ingredients in their creations, and all the farmers and producers come from within a 125-mile radius of Fairfax County.
National Farmers Market Week is an annual celebration of farmers markets coordinated by the Farmers Market Coalition. This year, the campaign is centered around the essential role that farmers markets play in the food system, as demonstrated by the coronavirus pandemic. When conventional food supply chains failed at the start of the pandemic, farmers markets and local food systems clearly displayed the resiliency of short supply chains and interest in local foods spiked nationwide.
Get details on Fairfax County's Farmers Markets by visiting our farmers market website. Here you can find information about the market locations and hours, as well as lists of vendors and the products they are featuring each week. Order in advance to make your visit even easier and be sure to note the new safety guidelines this year due to COVID-19.
For more information, contact the Public Information Office at 703-324-8662, or write to parkmail@fairfaxcounty.gov.