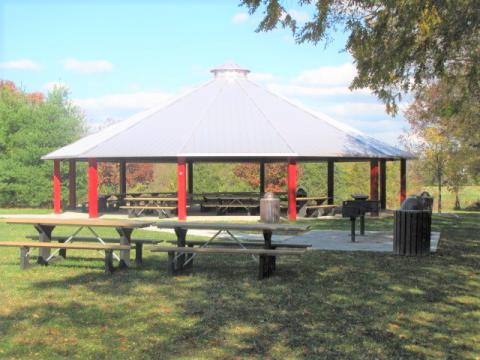 Take a break from the constant stream of virtual meetings to get the office crew back together again safely with an outdoor meeting at Frying Pan Farm Park.
"Many employees have loved working from home during the pandemic, but after more than four months, they're itching to get out of the house. Having an in-person business meeting in our pavilion is a good way to do that, Frying Pan Farm Park Manager Yvonne Johnson said.
Frying Pan is a 135-acre park in Herndon, Virginia, located four miles from Dulles International Airport. The park includes a working farm, an equestrian center and an outdoor pavilion that companies can rent for meetings of up to 72 people. The pavilion allows companies to have a work meeting outside, where staff can safely social distance but still have a roof and breezes to stay cool.
While online meetings are important in keeping a business running, it can improve staff morale to meet in an outdoor space where they see people face-to-face. The Frying Pan pavilion includes free parking, electricity, restrooms and picnic tables. It's located in an open field, where staff can get even more fresh air before or after the meeting. The pavilion is rentable for half a day, or from 9 a.m. to sunset.
There are additional benefits to enjoy when you hold a meeting at the farm. Your staff can visit the farm and barnyard, just a short walk down a country lane, open from 9 a.m. until 5 p.m. and filled with farm animals of all sorts. Your staff meeting is sure to be memorable.
To reserve the pavilion for business meetings, go to the Frying Pan Farm Park website.
Frying Pan Farm Park is located at 2709 West Ox Road, Herndon, Virginia. For more information, call 703-437-9101 or visit Frying Pan Farm Park.