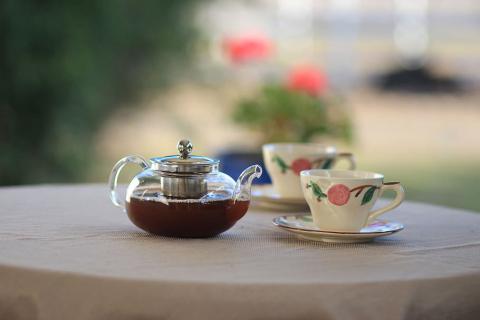 Historic Green Spring invites you to enjoy an afternoon tea program from the comfort of your home on Sunday, Aug. 23, 2020. You supply the kettle, and Green Spring can do the rest.
Settle in for a live slideshow lecture on Zoom that poses a provocative question: Who does tea better, the U.S. or the U.K.? Teatime preferences and etiquette are quite different in these two nations divided by a common beverage. Discover tea's riveting history on both sides of the "pond" and differences between the two tea cultures that may surprise and amuse you.
You can provide your own refreshments or make an occasion of it and treat yourself to a delicious afternoon tea just like the one served at the Historic House. If you select this option, afternoon tea boxes prepared by our caterer will be available for pick up at Green Spring Gardens between 10 a.m. and 1 p.m. The tea boxes will include savory finger sandwiches, cakes and pastries, scone with cream and jam, and a tea bag. The cost is $10 for the program. Add the tea box for $20. Get your teapot ready, then relax and enjoy from 2 to 3 p.m.
Register for the "Virtual Afternoon Tea: Who Does Tea Better?" program at Parktakes Online.
Green Spring Gardens is located at 4603 Green Spring Road, Alexandria, Virginia. For more information about programs at Historic Green Spring, call 703-941-7987 or visit Green Spring Gardens.