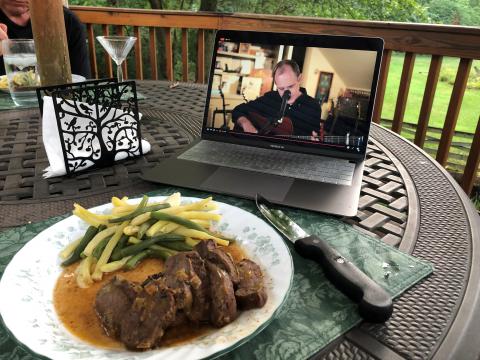 The Fairfax County Park Authority's virtual summer concert series continues this week with a variety of musical styles to suit all ages.
The concerts are broadcast live via Facebook each Thursday through Sunday evening at 7:30 p.m. Arts in the Parks shows for children will be livestreamed on Saturday mornings at 10 a.m.
Willow Hill, a Rolling Stone "Band to Watch" and Nashville's newest country sensation, performs on Thursday, Aug. 6, 2020. The charismatic husband-and-wife duo have developed a groundswell fan base with their modern twist on classic country.
The Jakob's Ferry Stragglers offer an evening of bluegrass, rockabilly and swing on Friday, Aug. 7, 2020. Enjoy their own brand of high energy Appalachian bluegrass.
Rocknoceros will entertain the whole family on Saturday morning, Aug. 8, 2020. Tune into their lineup of children's songs.
Ordinary Elephants will captivate you with their emotionally powerful and vulnerable folk songs on Saturday, Aug. 8, 2020.
Crys Matthews rounds out the weekend on Sunday, Aug. 9, 2020, with music to soothe the soul. Her thoughtful, realistic and emotional songs speak to the voice of a generation.
These concerts will only be available as Facebook livestreamed events.
Each year, the Fairfax County Park Authority, Fairfax County Board of Supervisors and Fairfax County Park Foundation offer free concerts, movies and children's performances that are usually held in Fairfax County parks. They have moved online this summer because of COVID-19. The shows are made possible through private donations, which pay performers' fees.
You do not need a Facebook account to view the concerts. The complete concert schedule, with links to join the concert live and information about the performers, is available on the Park Authority's Summer Entertainment web site.
For more information, contact the Park Authority at 703-324-8700, or send an email to parkmail@fairfaxcounty.gov.