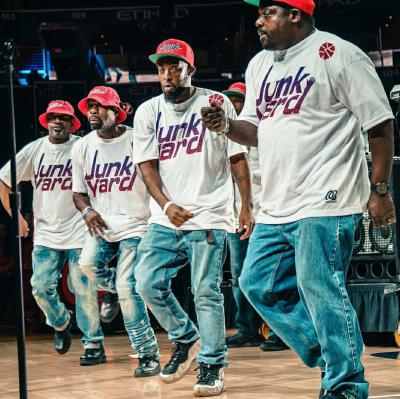 The Fairfax County Park Authority's virtual summer concert series pulls out all the stops with a blockbuster lineup. Concerts are broadcast live via Facebook each Thursday through Sunday evening at 7:30 p.m. Arts in the Parks shows for children livestream on Saturday mornings at 10 a.m. This August enjoy these performances in the comfort of your home:
Thursday, Aug. 20 - The Junk Yard Band, one of D.C.'s most popular go-go bands, was formed in 1980 by children living in the Barry Farm government housing project in D.C. They have toured extensively, playing in well-known venues such Richmond Coliseum, the John F. Kennedy Center for the Performing Arts in D.C. and the Apollo Theater in New York City with LL Cool J. Junk Yard has performed with the Beastie Boys, Salt–N–Pepa, Tupac, Roots, Slayer, Ice Cube and Yo-Yo.
Friday, Aug. 21 – Frank Solivan's articulate songs go straight to the heart. He is a multi-instrumentalist combining pure, classic bluegrass with 21st-century sophistication. He plays a wide variety of New Acoustic American Roots Music, focusing on bluegrass and more.
Saturday morning, Aug. 22 (Children's show) – Enjoy 123 Andrés, D.C.'s beloved Latin Grammy-winning music duo with catchy songs for kids, in Spanish and English. Come see why Billboard called them a "rockstar for little language learners."
Saturday evening, Aug. 22 - The Kennedys with husband-and-wife team, Pete and Maura Kennedy, present a program of audience favorites drawn from their popular weekly YouTube live program of uplifting, inspiring songs that offer a dose of optimism and good cheer during hard times.
Sunday, Aug. 23 - Oshima Brothers' magnetic sibling sound features a harmony-rich blend of contemporary folk and acoustic pop. On stage, Sean and Jamie create a surprisingly full sound with dynamic vocals, electric and acoustic guitars, octave bass, loops and percussion.
These concerts will only be available as Facebook livestreamed events. Find more information on these performances on the Summer Entertainment Series website.
The Fairfax County Park Authority, Fairfax County Board of Supervisors and Fairfax County Park Foundation offer free concerts, movies and children's performances that are usually held in Fairfax County parks. They have moved online this summer because of COVID-19. The shows are made possible through donations.
You do not need a Facebook account to view the concerts. The complete concert schedule, with links to join the concert live and information about the performers, is available on the Park Authority's Summer Entertainment website.
For more information, contact the Park Authority at 703-324-8700, or send an email to parkmail@fairfaxcounty.gov.