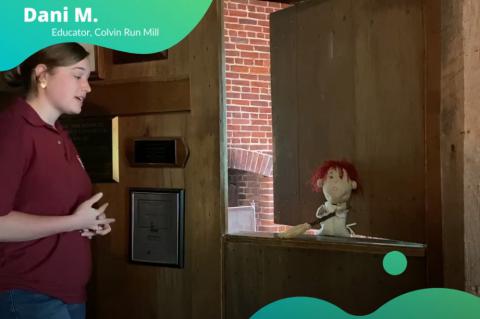 See what you can learn from a puppet, take a garden stroll or work up a sweat with a fitness workout via the Park Authority's Virtual Exploration Center.
This week, let puppets be your guides on a tour of Fairfax County's historic Colvin Run Mill. Join a Park Authority educator and some of her puppet friends on a walk through the mill to learn how grain is turned into the flour and see simple machines at work. Click on the icon for the Mini Miller Puppet Show.
Get a sneak peek of what awaits you at Green Spring Gardens on a video tour of the Children's Garden. Take a virtual stroll through blooming plants, colorful birdhouses and children's artwork by clicking on the Children's Garden Exploration icon.
Stay fit from the comfort of home with Healthy Strides Community Classes. Find a complete listing of all the new virtual classes being offered live and at no cost. Just click on the icon for Virtual Fitness Classes.
Check back regularly for updates to the Virtual Exploration Center to stay physically and mentally fit while access to park facilities is limited due to the COVID-19 pandemic.
For more information, contact the Public Information Office at 703-324-8662, or send an email to parkmail@fairfaxcounty.gov.