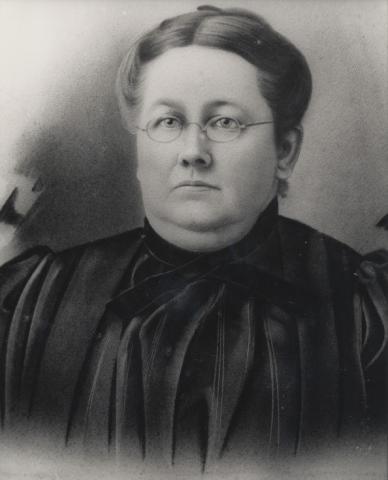 As the nation celebrates the 100th Anniversary of women gaining the right to vote, artiFACTS salutes a woman important to Fairfax County history. Look at her imposing portrait and see if you can tell whether it's a photo or a drawing.
This month, the Fairfax County Park Authority's artiFACTS website features a portrait of Emma Millard, a woman who gave birth to 20 children in the 1800s and successfully ran Colvin Run Mill. Her portrait, which was donated to the Park Authority by her descendants, is an example of a portrait style that became popular in the late 1800s. While only the very rich could afford a traditional portrait, this new technological style allowed families of more moderate means to honor their members through art.
If you can't get to a real museum these days, enjoy the Park Authority's virtual museum by spending a little time on the artiFACTS website.
The Park Authority's collections include more than 5,000 historic objects, such as quilts, chairs, baskets, machines, and clothing; thousands of archival items, such as photographs, letters, maps and other documents; and upwards of 3 million artifacts that include archaeological finds, such as spear points and pottery. All come with their own stories to tell. artiFACTS allows us to showcase a small sampling of these treasures to educate, enlighten and entertain. For more information about the Park Authority's Museum Collections, contact Heritage Resource Specialist Megan Leining at 703-631-1429, or at megan.leining@fairfaxcounty.gov.