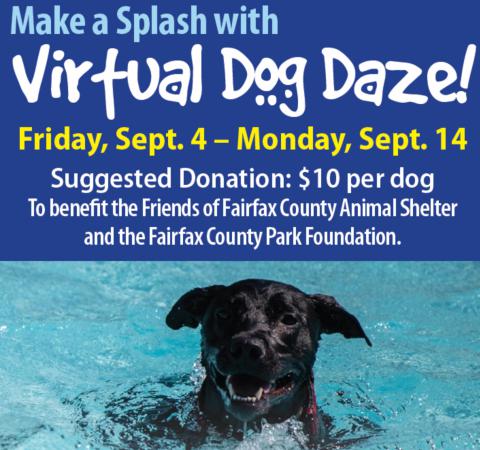 Let's get rowdy, Rover!
The pandemic may have shuttered The Water Mine at Lake Fairfax Park this summer, but it can't stop the pool fun. Join the Fairfax County Park Authority for a Virtual Dog Daze from Friday, Sept. 4 through Monday, Sept. 14, 2020.
The Water Mine normally closes its summer pool season annually with a Dog Daze party that invites county residents to bring their dogs for a splash in the pool. This year, summer ends with a virtual party for the canines. Snap a photo of your dog near any body of water – lake, river, puddle, bathtub, sink or baby pool. Any water will work. Enter the photo in the Virtual Dog Daze online event for a chance to win prizes.
Enter your photo online at Fairfax County Park Foundation website. There's a suggested voluntary donation of $10 per dog. Donations benefit the Friends of Fairfax County Animal Shelter and the Fairfax County Park Foundation.
Virtual Dog Daze is co-sponsored by the Fairfax County Park Authority, the Fairfax County Park Foundation. Prizes for the lucky winners are provided by Weber's Pet Supermarket, Giant, and Aquatic Paws.