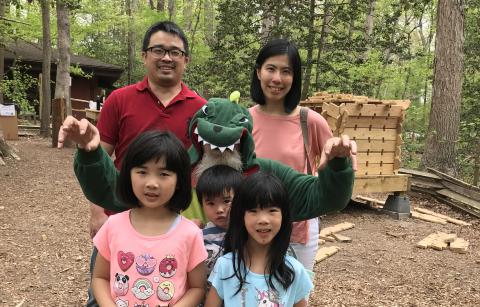 Dig out your basket and stomp over to Nature Playce at Hidden Oaks Nature Center to enjoy an outdoor dinosaur program followed by an egg hunt. The 45-minute program is repeated on Saturday, Sept. 5, 2020, Monday, Sept. 7, 2020, and Sunday, Sept. 13, 2020, for children ages 3 to 8 years old.
Whereas it may not have been safe to hunt for eggs during the Mesozoic Era, these hunts will follow social distancing and other safety guidelines, and be held in small groups. Each registered child may have one adult in attendance.
In addition to finding make-believe dinosaur eggs and tracks, naturalists will invite children to compare their measurements to that of dinosaurs. The search will continue for tadpoles in the pond. Kids can greet our masked costumed dinosaur and make a dinosaur craft. Eggs contain stickers and small dinosaurs.
The program will be canceled in the event of inclement weather. Each session is $10 per child.
Register for Dinosaur Egg Hunt
Hidden Oaks Nature Center is located at 7701 Royce St., Annandale, Virginia. For more information, call 703-941-1065 or visit Hidden Oaks Nature Center.