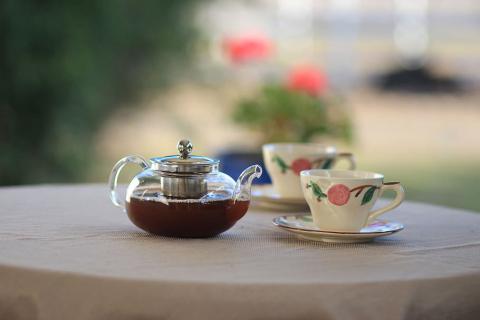 This fall, Historic Green Spring invites you to enjoy three virtual afternoon tea programs that you can enjoy from the comfort of your home.
Make an occasion of it. Treat yourself to a delicious afternoon tea just like the ones served at the Historic House with an optional afternoon tea box prepared by Green Spring's caterer. The boxes will be available for pickup at Green Spring Gardens between 10 a.m. and 1 p.m. on the day of the program. Tea boxes include savory finger sandwiches, cakes and pastries, scone with cream and jam, and a tea bag. Just put the kettle on, relax and enjoy.
The 2020 fall teas will be:
"Feast of Flowers" on Sunday, Sept. 27, 2020 from 2 to 3 p.m. In this program, learn about edible flowers that can add tasty, healthful and decorative dimensions to any dish. Discover which flowers are edible and the surprising ways they jazz up recipes. Sample a variety of flavorful blooms that will be individually packaged for same- day pickup.
"50 Years for Women" on Sunday, Oct. 18, 2020 from 2 to 3 p.m. Consider how the past 50 years have transformed women's lives. Discover what women could not do before 1970 and consider the fast-paced liberation that continues today. Hear about the remarkable woman whose donation 50 years ago made Green Spring Gardens possible.
"Scandalous!" on Sunday, Nov. 8, 2020 from 2 to 3 p.m. Greed, lust and deception have brought down famous people of all stripes throughout human history. Hear stories of scandals through the ages that are shocking in their brazenness, immorality and sheer absurdity. Discover the enduring power of scandal to shape the course of history.
The cost of each virtual tea is $24 for the program and tea box; $12 for the Feast of Flowers lecture only; $10 for the Fifty Years and Scandalous lectures only. All registrants will be sent a link by e-mail to attend the lectures on Zoom.
Register for Virtual Afternoon Teas
For more information, call 703-941-7987; or visit Green Spring Gardens.
Green Spring Gardens is located at 4603 Green Spring Road, Alexandria, Virginia.