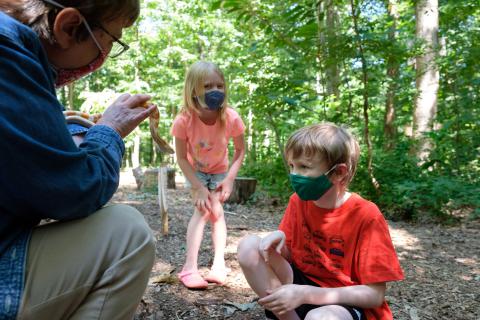 Preschoolers ages 4 to 5 benefit from daily outdoor play. Encourage their natural curiosity by exploring forest critters on either Wednesday, Sept. 9 or Wednesday, Sept. 23, 2020 from 10-10:45 a.m. at Hidden Oaks Nature Center. Each session is $8 per child.
Naturalists lead a small group of children on a hike, outdoor activities, and live animal introduction. Due to limited class size, only one adult and only siblings registered in the class may attend per registered child. Six-foot distancing and masks are required for all participants. The program will be canceled in the event of inclement weather.
Register for Tots in the Woods
Hidden Oaks Nature Center is located at 7701 Royce St., Annandale, Virginia. For more information, call location phone 703-941-1065 or visit Hidden Oaks Nature Center.