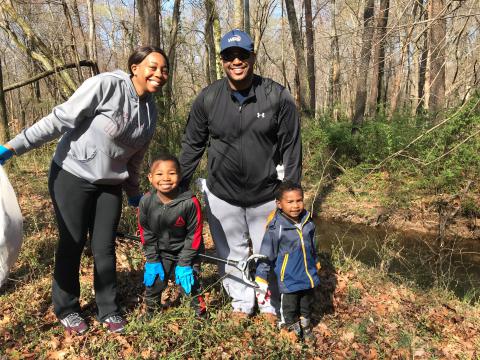 Do your part to help the environment. Volunteer for a "Watershed Cleanup Days" event at a park or recreation center near you this fall.
These community service events are great for individuals, families, service groups and students. Work outdoors helping to clear Earth's arteries by removing tires, bottles, cans and other debris dumped in local waterways. All ages are welcome to take part.
Cleanups are currently scheduled:
Sunday, Oct. 4, 2020: Huntley Meadows Park
Saturday, Oct. 17, 2020: Ellanor C. Lawrence Park
Saturday, Oct. 24, 2020: Lake Fairfax Park
Saturday, Nov. 7, 2020: Cub Run RECenter, Hidden Pond Nature Center, Providence RECenter and Riverbend Park
More events may be added. To register and to get all the latest details on locations, dates and times, go to the Volunteer in the Parks page.