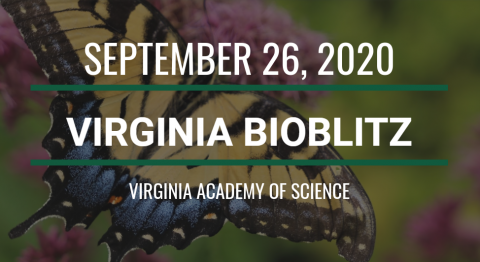 Visit a Fairfax County park for Virginia BioBlitz 2020. It's an opportunity to discover the nature around you.
A BioBlitz is an event open to all in which people try to find and identify as many species as they can in a specific area over a set time span.
This year's Virginia BioBlitz is the perfect way to explore a local park or your backyard. Fairfax County has more than 400 parks, from regional to playground size, and they all have nature to discover. The BioBlitz is open to K-12 teachers, their students, homeschoolers, families and anyone who loves nature and is willing to learn more about it.
The major event of Virginia BioBlitz 2020 is on Sept. 26, 2020. There will be a virtual kickoff at 9 a.m. via Zoom with the Virginia Academy of Science and its many partners, such as the Fairfax County Park Authority (FCPA). All you need to do is register on the event website, download the iNaturalist app onto your smart phone, then join the BioBlitz and start exploring nature around you.
Your observations help the Park Authority catalog the many wonders that park naturalists protect. Registration and details are at the Virginia BioBlitz 2020 website. For more information, email vabioblitz@gmail.com.