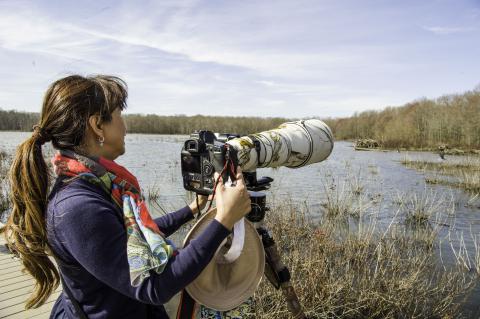 Get up with the sun on Sunday, Oct. 11, 2020, to work on your photography talents at Huntley Meadows Park.
Join the "Nature Photography at Dawn" class for adults to discover what critters awake with the sun, and learn how to capture them with your camera. This class is designed for photographers at the beginner to intermediate skill levels. Bring your own DSLR camera, and bring your tripod if you have one. The program runs from 6:45 to 8:45 a.m., and the cost is $36 per person. Please note that no indoor restrooms will be available. A portable restroom may be available.
Register for Nature Photography at Dawn
Individuals age 2 and older are required to wear a mask or face covering when indoors at Park Authority facilities. Masks or face coverings are required for outdoor programs when physical distancing cannot be maintained. Exceptions will be made for health reasons or for activities such as eating or exercising.
Huntley Meadows Park is located at 3701 Lockheed Blvd., Alexandria, Virginia. For more information, call 703-768-2525; or visit Huntley Meadows Park.