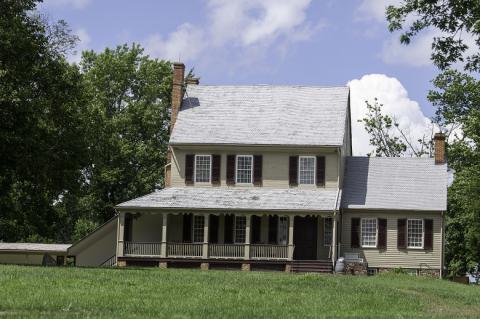 There's more to Sully Historic Site than just the historic house.
Dig deeper into local history with the program, "Hidden in Your Backyard: The History of Cain's Branch." Come to Sully to hike the trails and learn about the history of abandoned sites hidden from most visitors' views. Follow trails of forested areas and Cain's Branch waterway to learn about the Lees and other families who made Sully their home. Expect to do some walking over uneven terrain.
This program is suitable for all ages and is being offered on two Thursdays in October – Oct. 8 and Oct. 22, 2020. The outdoor guided event runs from 11 a.m. to noon, and the cost is $10 per person.
Register for Hidden in Your Backyard: History of Cain's Branch
Individuals age 2 and older are required to wear a mask or face covering when indoors at Park Authority facilities. Masks or face coverings are required for outdoor programs when physical distancing cannot be maintained. Exceptions will be made for health reasons or for activities such as eating or exercising.
Sully Historic Site is located at 3650 Historic Sully Way, Chantilly, Virginia. For more information, call 703-437-1794, or visit Sully Historic Site.