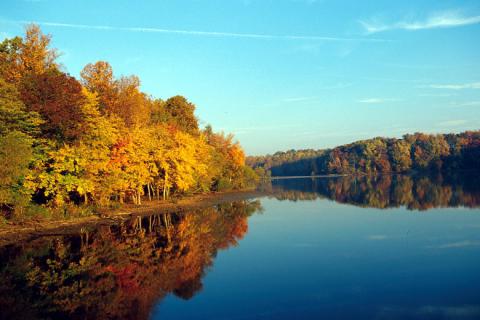 Spend a Saturday morning soaking in the fall sights aboard a kayak at Lake Accotink Park.
Get a new perspective on the autumn colors this year with a "Fall Foliage Kayak Expedition" on Oct. 10 or Oct. 24, 2020. The expedition will take you to the northern part of Lake Accotink to see glorious natural tunnels of orange, yellow and red leaves. This event is designed for participants age 13 to adult, and previous kayak experience is necessary.
The kayak trip runs from 8 to 10 a.m. The cost is $42 per person.
Register for Fall Foliage Kayak Expedition
Individuals age 2 and older are required to wear a mask or face covering when indoors at Park Authority facilities. Masks or face coverings are required for outdoor programs when physical distancing cannot be maintained. Exceptions will be made for health reasons or for activities such as eating or exercising.
Lake Accotink Park is located at 7500 Accotink Park Road, Springfield, Virginia. For more information, call 703-569-3464; or visit Lake Accotink Park.