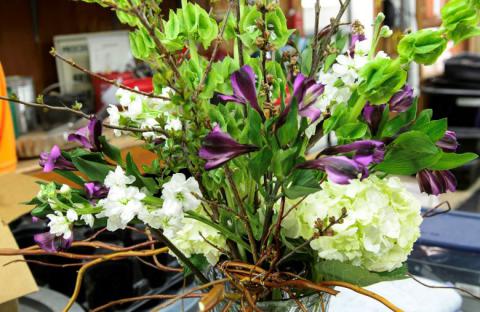 Give the kids a chance to relax with yoga in the gardens or give yourself a chance to turn garden fruits and vegetables into a beautiful home decoration. Green Spring Gardens is offering programs for kids and adults to enjoy on Saturday, Nov. 21, 2020.
The "Nature Stretching & Games" program will give children age 5 to 8 the chance to experience rest and relaxation with Nature Yoga in the beautiful gardens at Green Spring. There will also be nature-themed games to provide exercise. The program runs from 10 to 11 a.m., and the cost is $10 per child.
Register for Nature and Stretching
Green Spring's "Floral Design Workshop: Fruits & Vegetables" is geared toward those age 16 to adult. Fruits and vegetables make beautiful features in floral arrangements if you know how to use them, and certified floral designer Betty Ann Galway will show you which edibles work well. She will also demonstrate techniques for incorporating them into your own arrangements. You leave with a stunning design to accent your home. This program runs from 10 to 11:30 a.m. The cost is $39 per person, plus a $30 supply fee. Indoor classes are being conducted according to Health Department and Centers for Disease Control and Prevention safety guidelines.
Register for Floral Design Workshop: Fruits & Vegetables
Green Spring Gardens is located at 4603 Green Spring Road, Alexandria, Virginia. For more information, call 703-642-5173, or visit Green Spring Gardens.