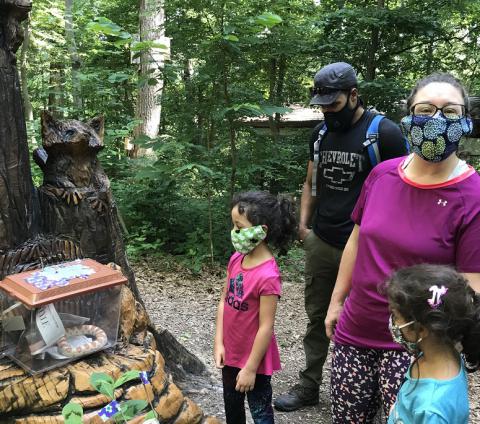 Your grandparents may say they walked 5 miles to school in the snow – each way – so don't let a little cold weather stop you! Bundle up and come out for our wonderful science- and history-based outdoor lessons with the Park Authority's new Field Trips for All programs at parks throughout the county.
These programs offer parents a unique opportunity to supplement their child's science learning with real experiences and application of the concepts required in the Virginia Standards of Learning.
Students might create a rainbow explosion with water chemistry, walk between the planets comparing relative distance, hunt for snags and saplings in the forest, or learn how to enhance their senses to compete with those of native wildlife. We also use live animals, artifacts and other park resources to enhance the learning.
Register for Field Trips for All
Programs vary by park and are geared toward particular grade levels. Due to the popularity of these programs, Hidden Oaks just added 25 sessions for November.
All attendees -- parents and students -- must register. The prices range from $6 to $9 per person.
Register for field trips for all Hidden Oaks programs online, or arrange for your own scheduled time for a private family class by emailing Suzanne.holland@fairfaxcounty.gov.
Register for Field Trips for All at Hidden Oaks Nature Center
Hidden Oaks Nature Center is located at 7701 Royce St., Annandale, Virginia. For more information, call 703-941-1065; or visit Hidden Oaks Nature Center.