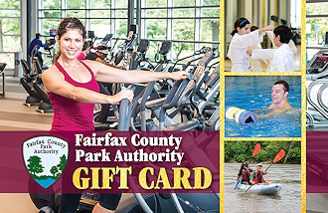 Think outside the gift box this holiday season. Give a gift that will making lasting memories -- a unique park experience.
Who do you know who would enjoy a horse-drawn hayride, a winter tea program, a naturalist-led hike, an art class, or a trip through time to Fairfax County's past? Peruse Parktakes Online and search for experiences by park or program type. There are programs to appeal to nature lovers, history buffs and workout enthusiasts.
You can purchase a class for an individual or try something new this year -- a customized Program by Request for the whole family. These tailored-to-fit programs can be found at sites throughout the park system.
If you just can't make up your mind, consider a Park Authority gift card. You can buy a gift card by calling or visiting your favorite RECenters or nature center. You can now also purchase a e-gift card online:
E-gift cards- customers can purchase e-gift cards on the web. To purchase a gift card on the web, a household account is required. Accounts can be created on the web.

Note: Customers can only use one gift card per transaction on the web. If a customer would like to use multiple gift card, the transaction needs to be completed over the phone or in person (applies to both e-gift cards and physical gift cards).

Gift Card-Check Balance – Customers can check the balance of their gift cards on the web by going to the gift card page and clicking "Check gift card balance."
Gift card amounts range from $20 to $999. Recipients can use them to purchase RECenter passes, as well as classes and camps.
Golf gift cards can be purchased at all Fairfax County golf courses starting at $25. These cards can be used for greens fees, range fees, food and beverages, and merchandise at the pro shops.
Quit worrying about whether you're choosing the right color or size this holiday season. Park programs are always a perfect fit for friends and family.
For more information, contact the Public Information Office at 703-324-8662 or at parkmail@fairfaxcounty.gov.