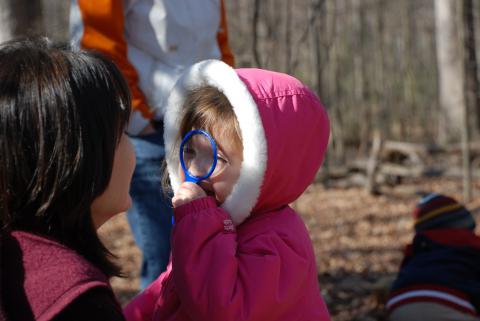 Roasting marshmallows over an open fire, listening for owls on a night hike and discovering fascinating facts about animals of the night make for excellent autumn fun with Hidden Oaks new Campfire Your Way program. Invite your family, including those in your bubble, for a private group adventure with one hour of outdoor activities for $90. Over a dozen date/time options are listed online.
Register for Campfire Your Way
Preschoolers learn best through engaging their senses. A walk along a woodland trail tickles the senses with fall's crisp temperatures, crunchy and colorful leaves, and earthy scents. Join a Hidden Oaks Nature Center naturalist for a guided walk with Critter Crawls on most Wednesdays and Thursday mornings from 10 until 10:45 a.m. This program is appropriate for children for ages 2 to 5 years old. The cost is per $8/child. Preregistration is required. Outdoor adventure includes a walk along an easy 1/3-mile loop trail, meeting a live animal and other activities. Each week will feature a different focus, including animals in winter, predator/prey, animal homes and seasonal changes.
All outdoor programs may be canceled in case of severe weather. Masks and social distancing requirements are observed. Register for programs at Parktakes.
Hidden Oaks is at 7701 Royce St., Annandale, Virginia. For more information, call 703-941-1065; or go to Hidden Oaks Nature Center.