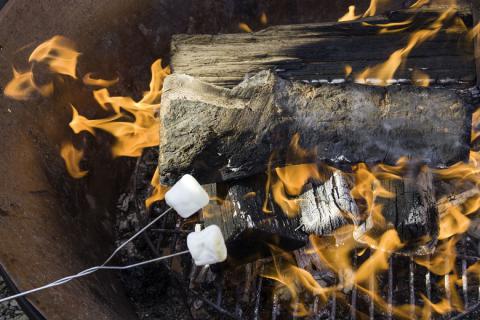 Looking for something new to do to get the whole family outdoors? Book a "Campfire Your Way" program at Hidden Oaks Nature Center.
Join a naturalist for a private nature program at the Woodland Wildlife Tree Sculpture, where you will learn about the curious and creative survival strategies of nocturnal animals. Then, take a 25-minute nighttime hike to a cozy campfire in the woods to toast marshmallows. You can bring up to 12 people in your family or COVID-19 bubble group at a cost of $90 per family.
Schedule your private family program on a Friday night on Dec. 4 or Dec. 18, 2020; or Saturday, Dec. 26, 2020. Multiple time slots are available. If those dates don't work for you, contact kim.young@fairfaxcounty.gov for additional date options. Masks are required, and please bring a flashlight. A restroom will be available. These programs will be rescheduled in event of severe weather.
Register for Campfire Your Way
Hidden Oaks Nature Center is located at 7701 Royce St., Annandale, Virginia. For more information, call 703-941-1065; or visit Hidden Oaks Nature Center.