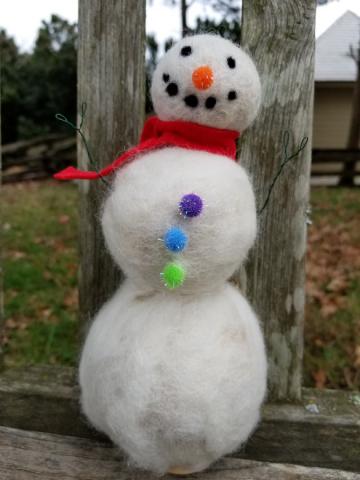 It's always sad to watch a snowman melt away, so discover how you can create a four-season snowman that will still be with you when summer arrives.
Sully Historic Site is hosting a series of "Unmeltable Snowman" workshops for families on three Mondays in January – Jan. 4, Jan. 11 and Jan. 25, 2021. At the workshop, you will learn to use a felting process to make an unmeltable snowperson and decorate it with style. Keep your creation through winter, spring, summer and fall.
This program is suitable for participants age 5 to adult and is being offered on the hour from 10 a.m. to 2 p.m. The workshop is designed for a family of up to four people, and the cost is $20 per family. Social distancing and face coverings are required.
Register for Unmeltable Snowman
Sully Historic Site is located at 3650 Historic Sully Way, Chantilly, Virginia. For more information, call 703-437-1794; or visit Sully Historic Site.