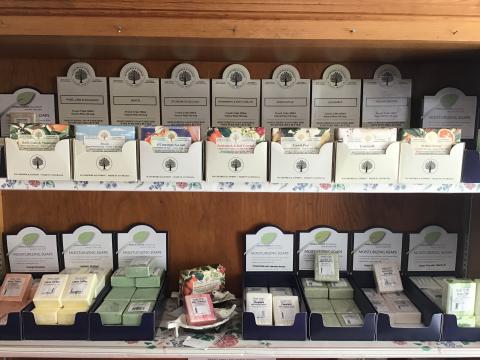 Looking for a unique, local gift for someone this holiday season? Look no further--the Squirrel's Nest Museum Gift Shop at Sully Historic Site is now offering curbside pickup!
Historic books, including Sully's own newly updated historic cookbook, are sure to complement anyone's bookshelves.
The Cat's Meow of Sully is perfect for any collector of the Cat's Meow—a series of collectible woodcuts of historic buildings—or for anyone who wants a piece of the historic home in their own abode.
Fancy teacups with matching saucers, porcelain spoons, and wine glasses featuring Sully's squirrel add a bit of charm to any dining table. Keep clean with Australian handmade soaps in a variety of scents. Add a bit of spice to your day with mug mats, cloth coasters packed with herbs to release a pleasant smell whenever you rest your mug on them. Stationery, hand towels, earrings and more await your holiday shopping.
Check out a full list of Sully's gift shop offerings and see pictures of merchandise at the Sully Historic Site gift shop website. Instructions for ordering are on the curbside pickup form. Phone orders for merchandise are accepted, too.
Curbside pickup is on Fridays from 10 a.m. to noon. If you are not able to pick up your purchases at that time, call Sully Historic Site at 703-437-1794 to make other arrangements.