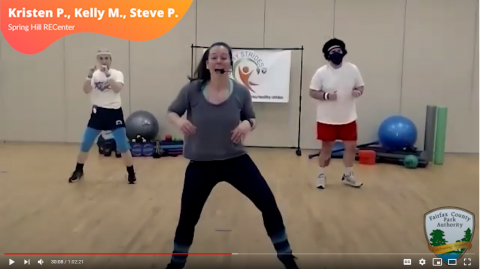 Celebrate an anniversary, learn to be a tree detective and enjoy a virtual tea with new offerings at the   Park Authority's Virtual Exploration Center.  
The Park Authority is currently celebrating its 70th anniversary year, and fitness buffs helped to kick off activities on December 6 with exercises done in groups of 70, some while dressed in 70s era clothing. Watch a video to see how it went. Check back to find more upcoming anniversary events at 70 Years of Excellence. 
Become a Green Spring Gardens Tree Detective by going on a hunt at the park for 10 decorated trees. Learn a little about each of the trees you find, and take a photo of yourself or your family in front of your favorite decorated tree. Share it online with #Green Spring Gardens. Find the list of trees and start your investigation . 
Doesn't a warm cup of tea sound nice now that the weather is getting chilly? Get tips on how best to enjoy a steamy cup with Green Spring Teatime Tips. Green Spring offers tea programs either virtually or at the Historic House, as health regulations allow. Discover what's coming up by visiting the Historic Programs & Teas page 
Check back regularly for updates to the Virtual Exploration Center to stay physically and mentally fit while access to park facilities is limited due to the COVID-19 pandemic. 
For more information, contact the Public Information Office at 703-324-8662 or send an email to parkmail@fairfaxcounty.gov.