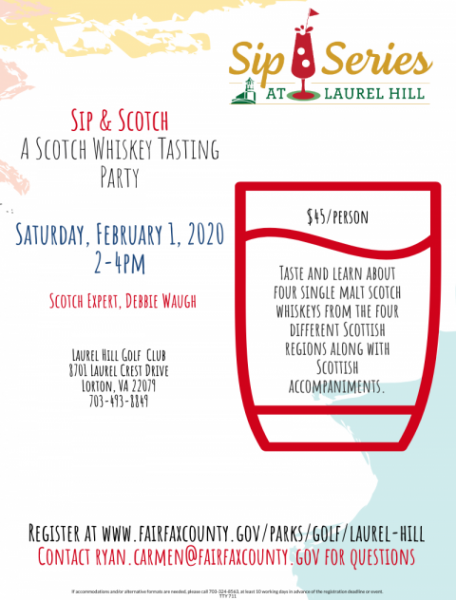 Laurel Hill Golf Club invites guests, 21 years and older, to kick off the new Sip Series; classes and events that mix art and history with food, wine and spirits. Enjoy an afternoon with local experts as well as the expertise of Laurel Hill's catering staff. Events are open to the public.
Sláinte! Scotch lovers rejoice on Saturday, February 1, from 2 to 4 p.m. at the Sip & Scotch Whisky Tasting Party hosted by scotch expert, Debbie Waugh. Taste and learn about four single malt scotch whiskeys from the four different Scottish regions along with Scottish food accompaniments. Cost per person is $45.
Events will be hosted in the clubhouse and require advance registration. To learn more about Laurel Hill's Sip Series and to secure your spot, visit Sip & Scotch at Laurel Hill.
Laurel Hill Golf Club is located at 8701 Laurel Crest Drive, Lorton, VA and is operated by the Fairfax County Park Authority.