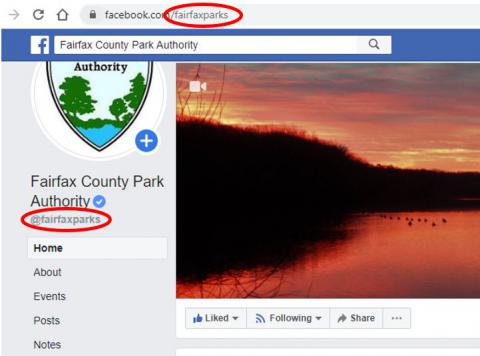 The new year brings opportunity for change and that rings true for the Fairfax County Park Authority's Facebook page. 
Effective Tuesday, January 7, 2020, the Park Authority's Facebook handle has changed to @fairfaxparks. The link to the Facebook page has therefore changed to: www.facebook.com/fairfaxparks.  This change shortens the page link and makes the FCPA Facebook handle consistent with the Park Authority's Twitter and Instagram platforms; the previous Facebook handle was @fairfaxcountyparks.
Organizations that link to the Park Authority Facebook page should ensure that those links are updated. Tagging via Facebook post can still be done using the name Fairfax County Park Authority. The change applies only to the Facebook website link.  
To follow the Park Authority on social media, please visit any of the following sites and select like/follow: 
If you have any questions or need assistance, please contact parkmail@fairfaxcounty.gov.