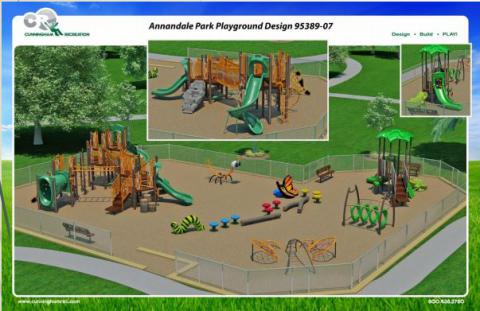 A new playground is coming to Annandale Community Park. At its meeting on January 22, 2020, the Fairfax County Park Board approved a plan to demolish the current playground, which has exceeded its life cycle, and build a new playground that meets accessibility requirements and is located closer to the existing rentable picnic shelter.
The new playground will include play equipment with features for children in the 2-5 and 5-12 age groups. The project also includes the installation of an accessible route to the playground area from nearby pedestrian walkways and parking, a safety surface, border, subsurface drainage and related amenities. A multi-use court will be demolished to make way for the new playground. Plans call for re-location of the multi-use court following a stream restoration project at the park.
Construction of the playground is expected to be completed in the second quarter of 2020. The replacement project is estimated to cost $260,176, which will be funded by the 2012 and 2016 Park Bonds.
For more information, contact the Public Information Office at 703-324-8662 or send an email to parkmail@fairfaxcounty.gov.