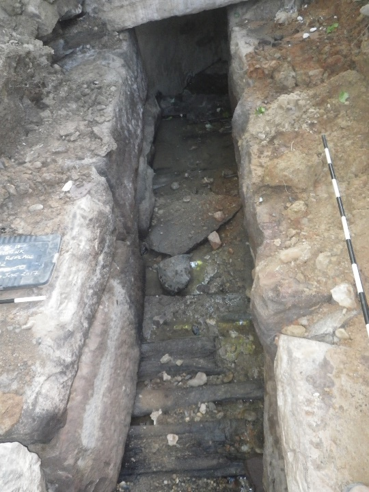 Railroad lines through Fairfax County were critical to both Union and Confederate troops during the Civil War, and remnants of those lines are being preserved in some Fairfax County parks. In this month's edition of artiFACTS, learn about a segment of the Orange and Alexandria Railroad that was documented at Lake Accotink Park. County archeologists are preserving this piece of our past through photographs and a segment of the rail line itself.
Just click on the Park Authority's artiFACTS website to learn about the railroad's cycle of destruction and repair. Learn how the county balanced historical preservation with modern development needs.
Each month, artiFACTS highlights an item from the Park Authority's vast collection of historic treasures. The collection includes more than 5,000 objects, such as quilts, chairs, baskets, machines, and clothing; thousands of archival items, such as photographs, letters, maps, and other documents; and upwards of three million artifacts that include archaeological finds, such as spear points and pottery. From glass fragments, to clothing to furniture, the items tell the story of our region's past.
For more information about the Park Authority's Museum Collections, contact Heritage Resource Specialist Megan Leining at 703-631-1429 or at megan.leining@fairfaxcounty.gov.