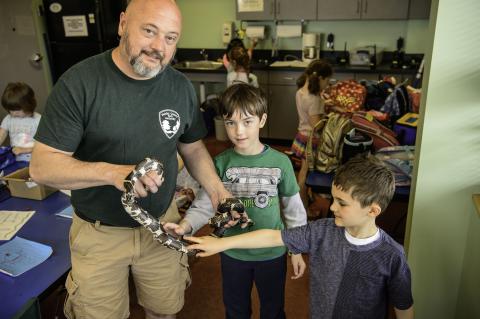 It may be cold outside, but it's time to think about summer, and more specifically about summer camp for your children!  Who is thinking about summer? You should!  Registration for summer camps begins next Tuesday, February 4, 2020.  Recently voted as one of Northern Virginia Magazine's Best Summer Camps 2020, the Fairfax County Park Authority offers more than 2,000 summer day camp options at over 50 locations. Camps are held at RECenters, nature centers, historic sites, lakefront parks, golf courses and schools and offer a variety of camp formats throughout Fairfax County. These camps feature plenty of fun, friendship building and provide a safe summer experience for children ages 3 to 17.
From traditional crafts and games to high-tech and high adventure, the Park Authority has something for everyone.  Many camps offer swimming at RECenters each day.
Sports enthusiasts can choose from an array of skill-development camps, including British & International soccer, basketball, football, baseball, gymnastics, cheerleading, archery or lacrosse.  Enjoy the outdoors?  Then check out our outdoor adventures, boating, fishing and biking camps.
Specialty camps such as chess, cooking, business and leadership allows for exploring new interests or developing a new skill.  There is also an array of STEM programs that stimulate cognitive development and enhance critical thinking.   
Some of the new, exciting camps available in 2020 include: Adventure Fishing, Dinos & Reptiles Art Camp, Rocket Kart Races, Inventor's League, Mulan's Great Adventure, NASA Space Explorers, and Chopped Jr.
Extended care is available at many locations before and after camp. Visit the Camps page for  complete listing of camps or browse through the 2020 FCPA Summer Camp Guide. Find camps for all your children at one place this summer!
The Park Authority has made summer planning easy with My Summer Camp Planner, developed by a request from a mother who wanted a simple spreadsheet to help plan summer camps for all her children. Download the Summer Camp Spreadsheet and quickly sort by location, age of children, and type of camp, then copy the Catalog ID to the My Summer Camp Planner Sheet.  With all your children's summer schedule on one page, registering is easy.
All the summer camps plus classes for kids and adults, special events and much more can be found in the spring edition of Parktakes Magazine (p. 42).  Early-bird registrants for summer camps by who register by May 8 and for Spring Break camps by February 14 receive $8 off each camp session. For more information, call the registration hot line at 703-222-4664 Monday through Friday, 9 a.m. to 4 p.m.