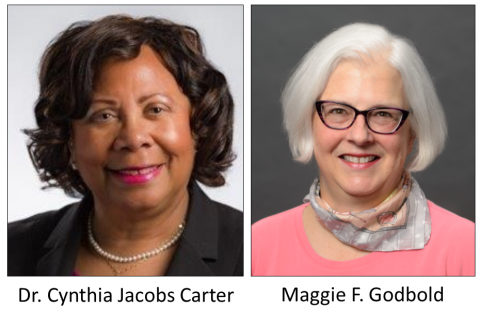 The Fairfax County Board of Supervisors reappointed two members of the Fairfax County Park Authority Board to four-year terms. Dr. Cynthia Jacobs Carter will return as the representative for the Lee District, and Marguerite (Maggie) F. Godbold will continue to represent the Sully District. The action came at the Board of Supervisors meeting on Tuesday, January 28, 2020.
Dr. Carter was first appointed to the Park Board in 2016. She served on the Fairfax County Park Foundation Board of Directors from 2011 until 2016. She is a Senior Advancement Officer at the Smithsonian Institution's National Museum of African American History and Culture and leads the museum's planned giving efforts. She has also served as Chief Development Officer in the Center for Folklife and Cultural Heritage at the Smithsonian and as Chief Development/External Affairs Officer at Africare. Dr. Carter has taught at Georgetown University and at The George Washington University, both in Africana Women's Studies, and is a National Geographic author of two books: Freedom in My Heart and Africana Woman.
In 2016, Ms. Godbold was appointed to the Park Board by Sully District Supervisor Kathy Smith. On the board, she serves as Vice Chair of the Budget Committee, Chair of the Resource Management Committee, and Board liaison to the Environmental Roundtable/Land Trust. She is a retiree and active community volunteer. Before her retirement, she worked as a certified project management professional and was a consultant providing system engineering and management services for the federal government. She is a Northern Virginia native and has been a resident of the Sully District for more than 30 years.
Fairfax County Park Authority Board members are appointed by the Fairfax County Board of Supervisors. They set policy and establish priorities for the park agency. The 12-member Park Board has members representing each magisterial district, as well as three at-large members.
For more information, contact the Public Information Office at 703-324-8662 or send an email to parkmail@fairfaxcounty.gov.