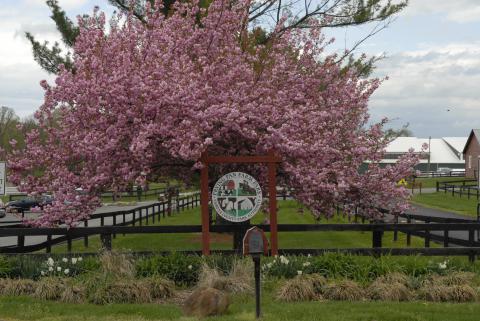 Experience the changes of spring and get up and moving through the wooded trail at Frying Pan Farm Park in Herndon, Virginia, on Saturday, March 28, 2020, from 11 a.m. until 1:30 p.m. The program is free and open to all ages. It is being offered in conjunction with the National Cherry Blossom Festival.
Begin your adventure at the Indoor Arena, where you can pick up a map and instructions. Volunteers will guide visitors to the starting point of Frying Pan's nature trails, where the fun begins as you experience the changes of spring. Follow the signs to activity stations, which are located throughout the trail. You can build a fairy house, help tally migratory and resident birds, and search for critters in the soil and water. End the journey at the 1790s Meeting House, where you can enjoy Japanese teas.
Frying Pan Farm Park is located at 2709 West Ox Road, Herndon, Virginia.  For registration and information call 703-437-9101 or visit online at Frying Pan Farm Park.