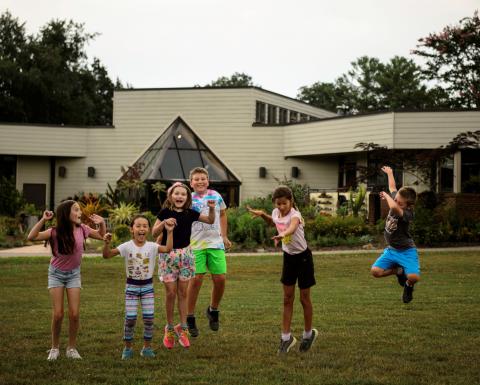 Fairfax County Park Authority summer camps are winners! They have once again been named in Northern Virginia Magazine's Best Summer Camps list.
The Park Authority is the largest provider of summer camps in Northern Virginia, and its day camps were nominated by the magazine's readers as among the area's best summer programs for children in 2020. With more than 2,000 options, the camps offer activities at unique locations to satisfy budding artists and entertainers, athletes and historians, techies and naturalists. Many camps at RECenters also include swimming time.
Programs are offered for children age 3 to 15 from June 8 through August 21, 2020. Campers can mix and match selections to satisfy a wide range of interests. Enjoy half-day, full-day, weekly and full summer sessions, with extended care at select locations. Some camps even offer field trips. Prices vary depending on the program.
Park Authority camps can be found at more than 60 locations across the county at parks, nature centers, historic sites, golf courses, schools and RECenters. They offer campers a chance to make friends, learn new skills and build self-confidence in a variety of environments. Check out the online camp guide for complete details.
Explore the many possibilities for spring and summer camps at the annual FCPA Camp Fair on Saturday, March 7, 2020 from 11 a.m. until 2 p.m. at Audrey Moore RECenter (8100 Braddock Road, Annandale, Virginia). There will interactive booths, giveaways, lots of camp information and folks to answer all your camp questions.
Summer camp registration is already underway. To register, go to Park Authority Camps or call 703-222-4664.
The Park Authority camps are featured in Northern Virginia Magazine's March 2020 issue, which hit newsstands on February 20.
For more information, contact the Public Information Office at 703-324-8662 or send an email to parkmail@fairfaxcounty.gov.