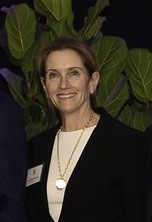 The Fairfax County Park Authority Board has confirmed the appointment of Laura Eakin Erlacher to the Fairfax County Park Foundation (FCPF) Board, which voted to elect Ms. Erlacher as a board director on January 21, 2020. Action came at the Park Board meeting on February 26, 2020. 
Ms. Erlacher is the Director of Government Affairs & Policy for GE Gas Power, where she analyzes domestic and global energy trends and climate policies. She also provides strategic guidance on federal and state legislation and regulations of importance to the natural gas industry. Previously, Ms. Erlacher worked as the Washington, D.C., publicist of the Emilie Brzezinski Sculpture. She also served as PPL Corporation Manager of Federal Government Relations in Washington, D.C., where she advocated Fortune 500 electric and gas utility corporate positions on key federal legislative and regulatory issues before U.S. Congressional members, senior federal government officials and international government representatives. 
Ms. Erlacher was recruited by Park Foundation Director Tim Eakin Walsh and will serve a three-year term on the Foundation's Board of Directors. She was the first member to represent the Eakin Family on the Board, having served on the inaugural Board from 2001-2004. During that time, she supported the Park Authority by raising supplemental funds from the private sector, grants and collaborative partnerships. The major fundraising initiative benefitted Clemyjontri Park. 
The Park Foundation is a nonprofit organization incorporated in 2000 and holds a Guidestar Gold Seal of Transparency. Its mission is to provide supplemental funding and support to the Park Authority to help meet community needs for park land, facilities and services. Last fiscal year FCPF raised more than $1.176 million for Fairfax County parks. 
For more information, visit the Park Foundation.