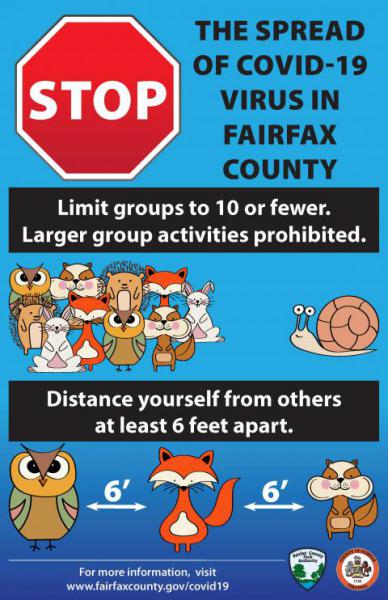 Observe  s o c i a l   d i s t a n c i n g  while you're being sociable in parks.
Although park facilities are closed, parks are open, and the Fairfax County Park Authority is asking you to observe government guidelines to limit your group size to fewer than 10 people during the current world pandemic. One of the key tactics to limiting the spread of coronavirus is social distancing, and one definition of the word social is "pertaining to public welfare." So, when you are asked to observe social distancing, you're being asked to be sociable for the public good.
The guidelines to staying safe and keeping others safe during the current coronavirus pandemic are:
Avoid large group activities
Keep a safe distance from others (at least 6 feet apart)
Wash hands frequently or use hand sanitizer
Avoid touching your eyes, nose and mouth
Cover your cough with a tissue or your sleeve
No hugs or handshakes
Stay home if you are sick
More information may be found at Social Distancing.
Parks are open, but park indoor facilities and Kidwell Farm at Frying Pan Farm Park are closed until further notice. Please observe the closures, keep a respectable distance from others while using trails or visiting parks, and keep parks, yourself and others safe.
For local information about COVID-19, click here.  For information pertaining to the Park Authority's COVID-19 response click here.