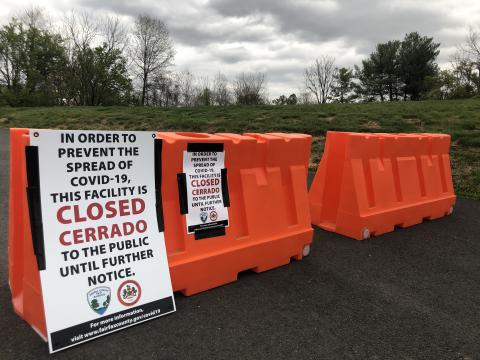 Volleyball and soccer are among the sports that have grown in popularity in Fairfax County with the help of leagues and Meet-Ups that draw people of similar ages and interests together. However, during this time of COVID-19 awareness and social distancing, please be aware that sports activities, of all kinds, except for use of trails are prohibited at Park Authority locations.
Staying at home can be challenging, especially when the sun is shining and the temperatures are warm, but increased park usage in recent weeks has made it nearly impossible for park visitors to follow social distancing recommendations.
The increased usage patterns posed a safety concern for both park visitors and our staff, so access was restricted for all activities. Since the Park Authority is not prioritizing one activity over another, the restrictions also extend to other activities such as tennis, basketball and fishing from the shore -- to name just a few.
In accordance with the governor's directive, athletic courts and fields will be closed until June 10, 2020. The Park Authority is working with local health officials and looking forward to reopening facilities as soon as it is safe to do so.
In the meantime, trails are open. Visitors are encouraged to walk to nearby parks, limit group sizes and observe social distancing. Trail hours are dawn to dusk. Remember, if it requires a car, its probably too far.
Find all the details about park use during this time at Fairfax County Park Authority's coronavirus response website.
For more information, call the Public Information Office at 703-324-8662 or email parkmail@fairfaxcounty.gov.