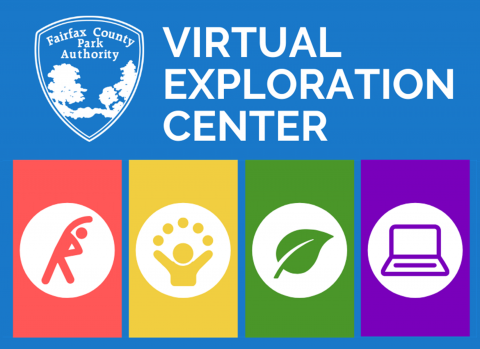 Whether you're looking for an on-demand workout, activities to entertain the kids, or historical tidbits about Fairfax County, check out the Park Authority's new Virtual Exploration Center.
Find tools to help you stay healthy, connected and engaged from your home or neighborhood until parks are able to safely reopen.
On the Health & Wellness drop-down, you will find a printable health journal, health and fitness trackers, video workouts and nutrition information. Under Science & Nature, you will see nature walk and scavenger hunt bingo games, field guides to plants and wildlife, updates on the new baby animal arrivals at Frying Pan Farm Park, and resources from around the state on everything from feathers to fish. The Culture & History section offers links to history-themed coloring pages, interactive tours of county historic sites, a guide to historical roadside markers and historic sites, and information about the county's museum collections.
Visit the Virtual Exploration Center. The collection of resources to aid in virtual recreation and exploration will be updated regularly, so check back often. For more information, call the Public Information Office at 703-324-8662 or email parkmail@fairfaxcounty.gov.